Destinations in Mykonos
We welcome you to one of the most favourite destinations all over the world. The island of Mykonos, well known for its cosmopolitan character and its idyllic beauty, the luxury and simplicity, will surely thrill you. Enjoy swimming, wandering, food taste and dance. Just let things take their course, live your dreams!
Sandy beaches, turquoise waters.
Are we clear? Crystal!
Beaches of ravishing beauty, adorned by the crystal blue seawater, windmills, pigeon houses along with the hospitable people and people famous all over the world Mykonos offers what everyone looks for.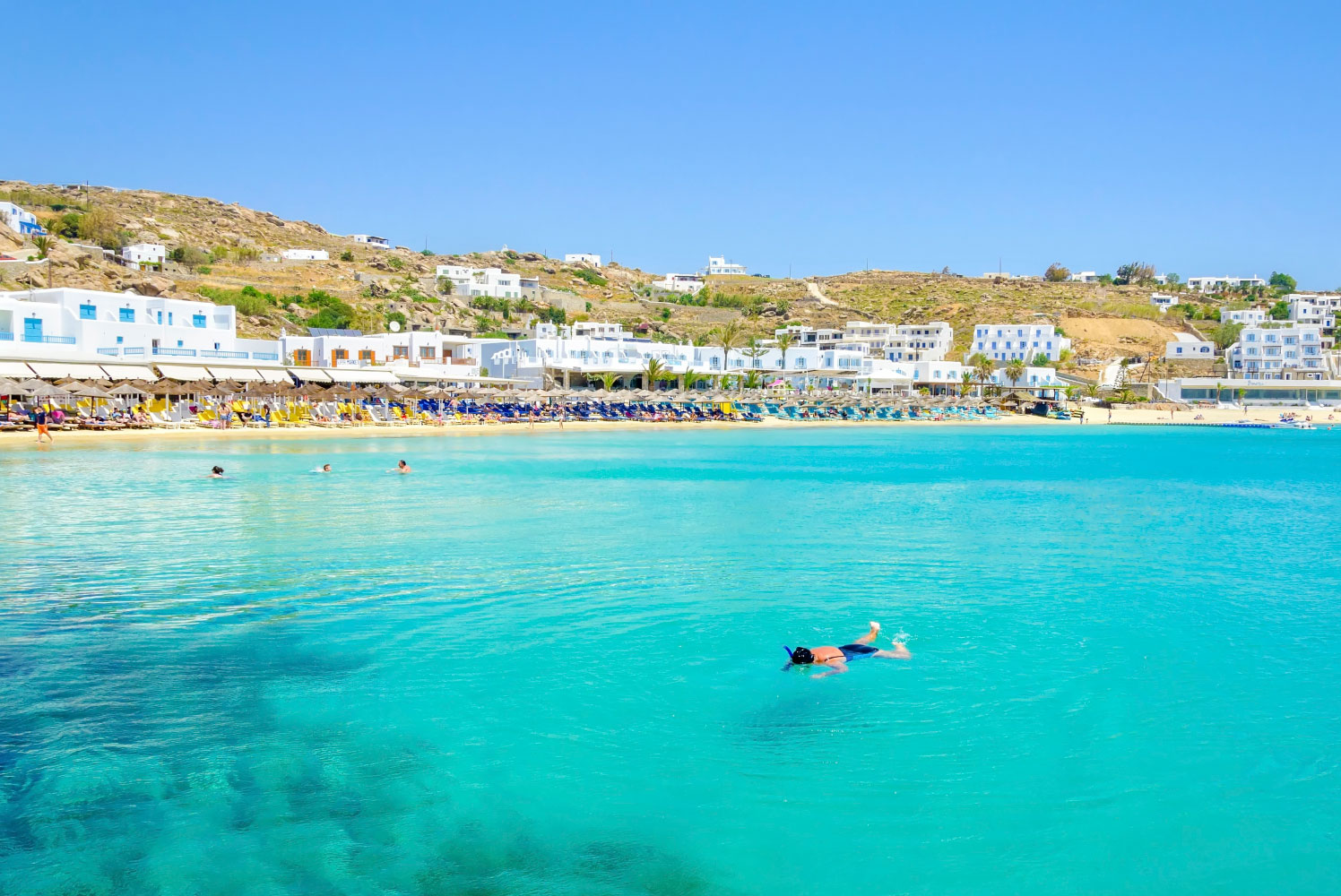 Platis Gialos Beach
The best beach on Mykonos. Lively, wide, and beautiful with many restaurants, several hotels, a mini-market, and direct buses to Mykonos Town. Located about 5 km southeast of Mykonos Town and on the water taxi route that goes to Super Paradise and other beaches.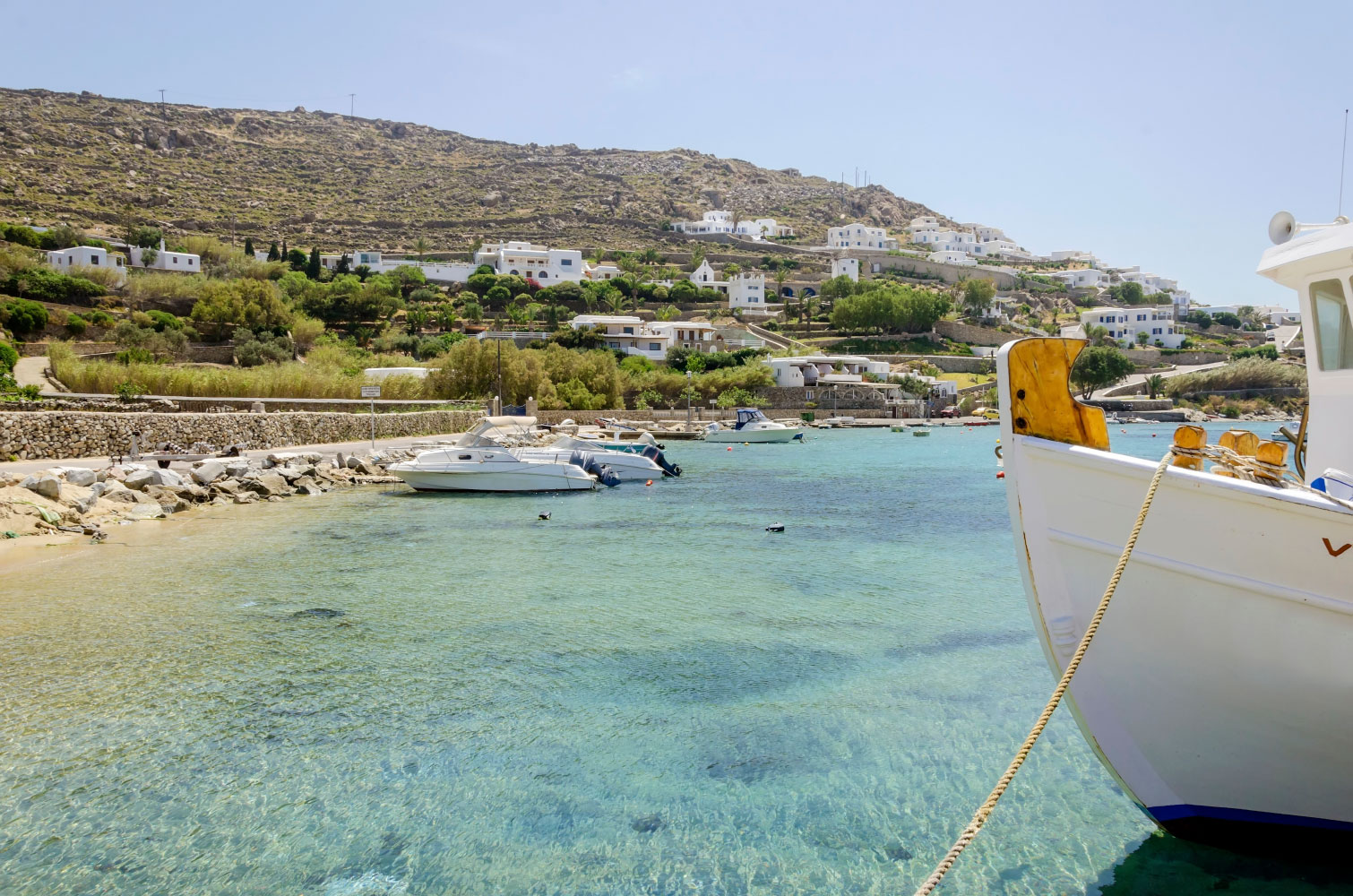 Ornos Beach
A beautiful beach with lovely surroundings and many tavernas. The most family-friendly beach on Mykonos. The westernmost beach along the water-taxi route. Located 3 km south of Mykonos Town.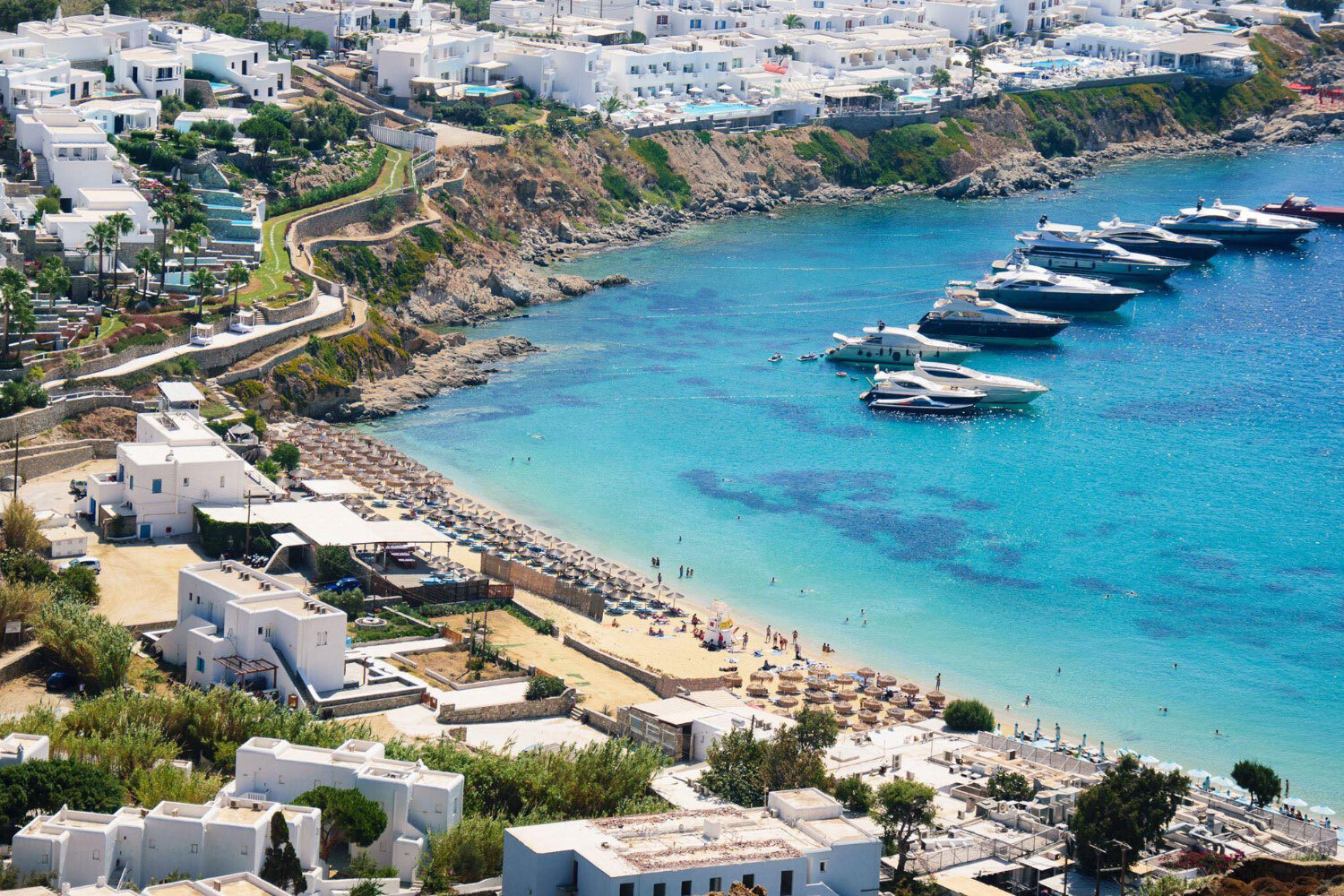 Psarou Beach
Many restaurants, beautiful sand, some watersports, and a little shopping. The most exclusive beach on Mykonos. Located 5 km southeast of Mykonos Town. The closest bus and water taxi stops are a short walk away at Platis Gialos Beach.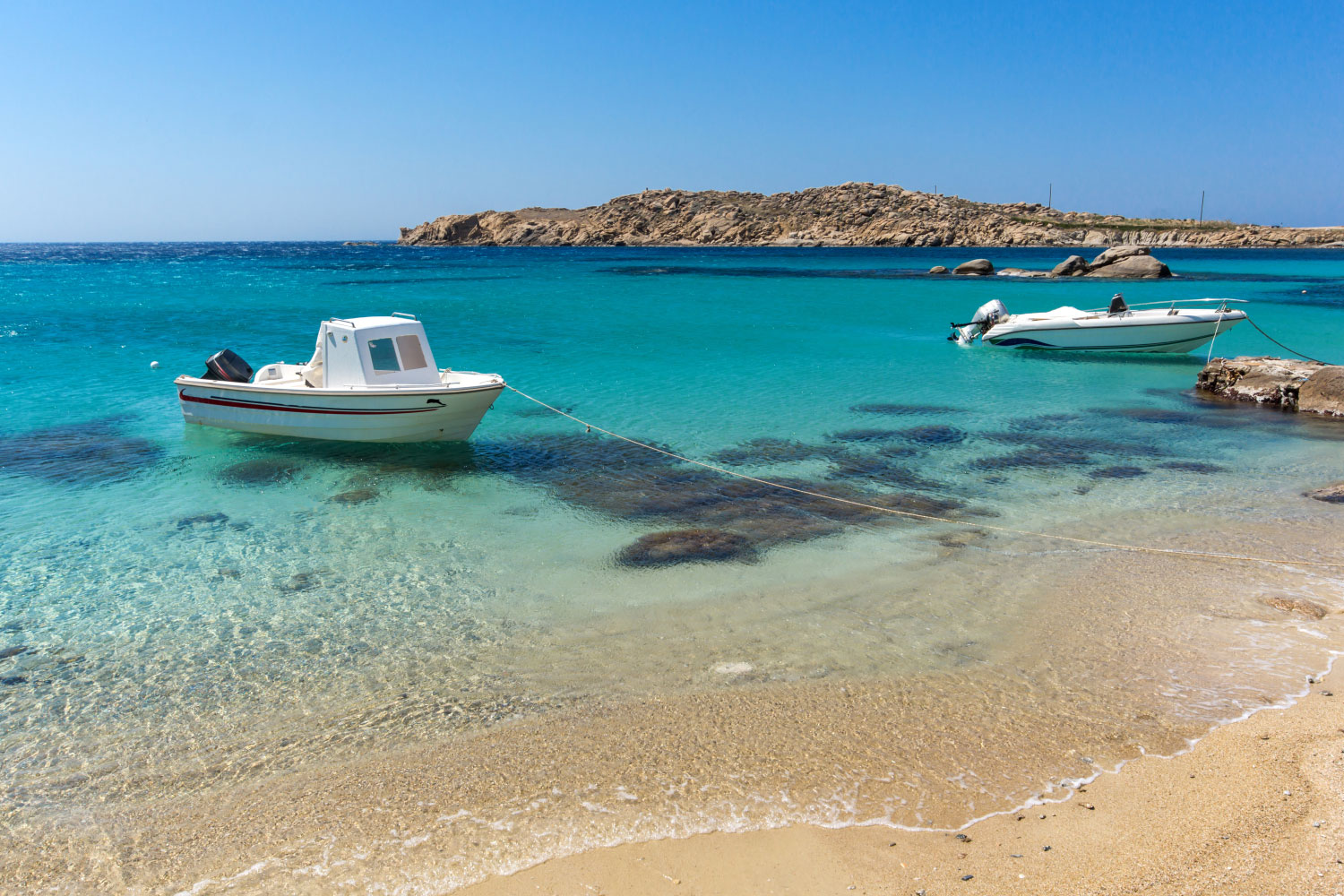 Paraga Beach
Paraga is very busy but beautiful. Several places to eat and drink. Direct bus from Mykonos Town to Paraga. Located along the water-taxi route. Located 6 km southeast of Mykonos Town.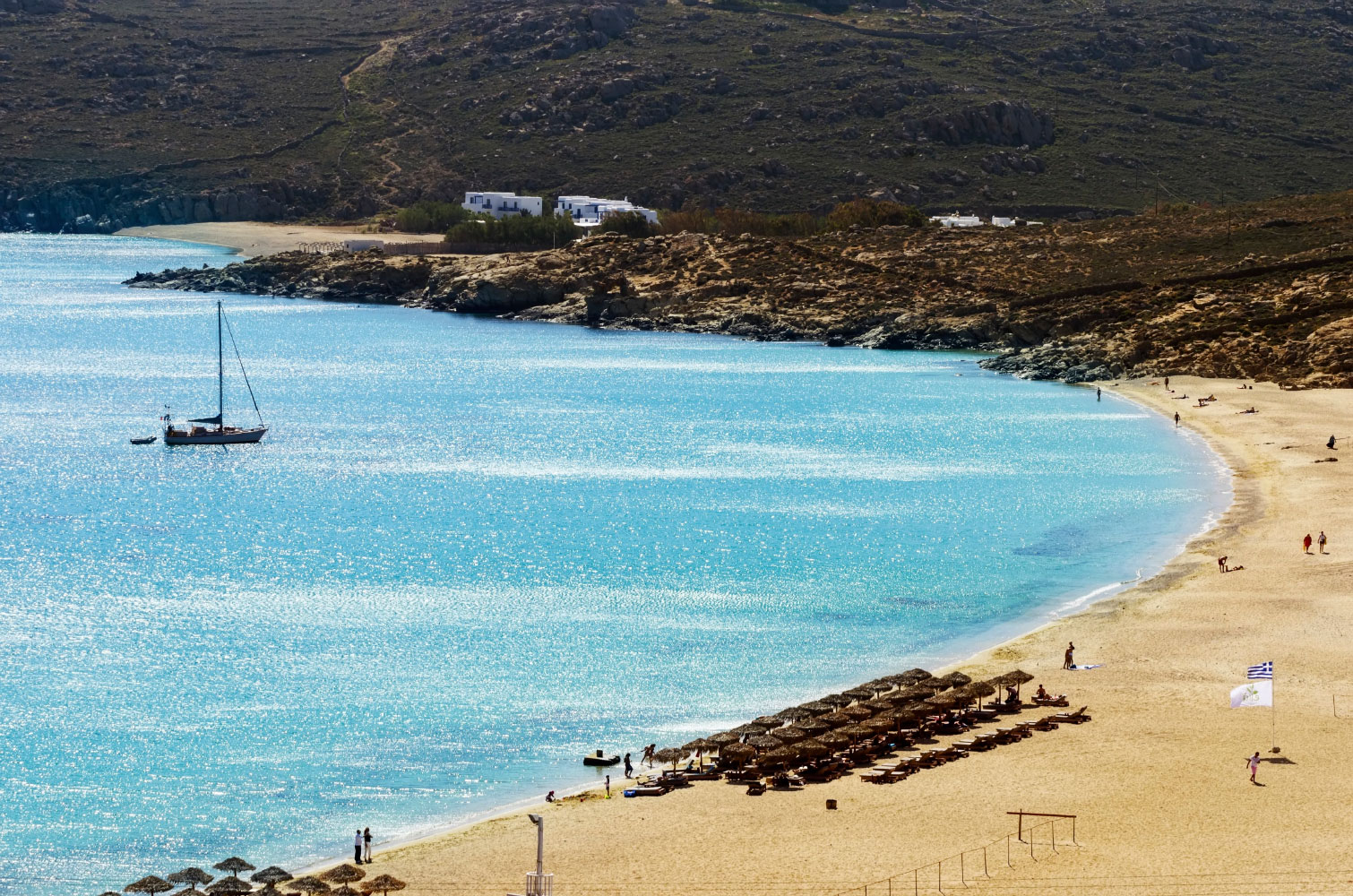 Elia Beach
The longest beach on Mykonos. In high season there are 5 or 6 buses a day from Mykonos Town to Elia. Elia is the easternmost stop along the water taxi route that connects to many southern beaches. Lots of parking here if you have a rental car. Located 11 km southeast of Mykonos Town.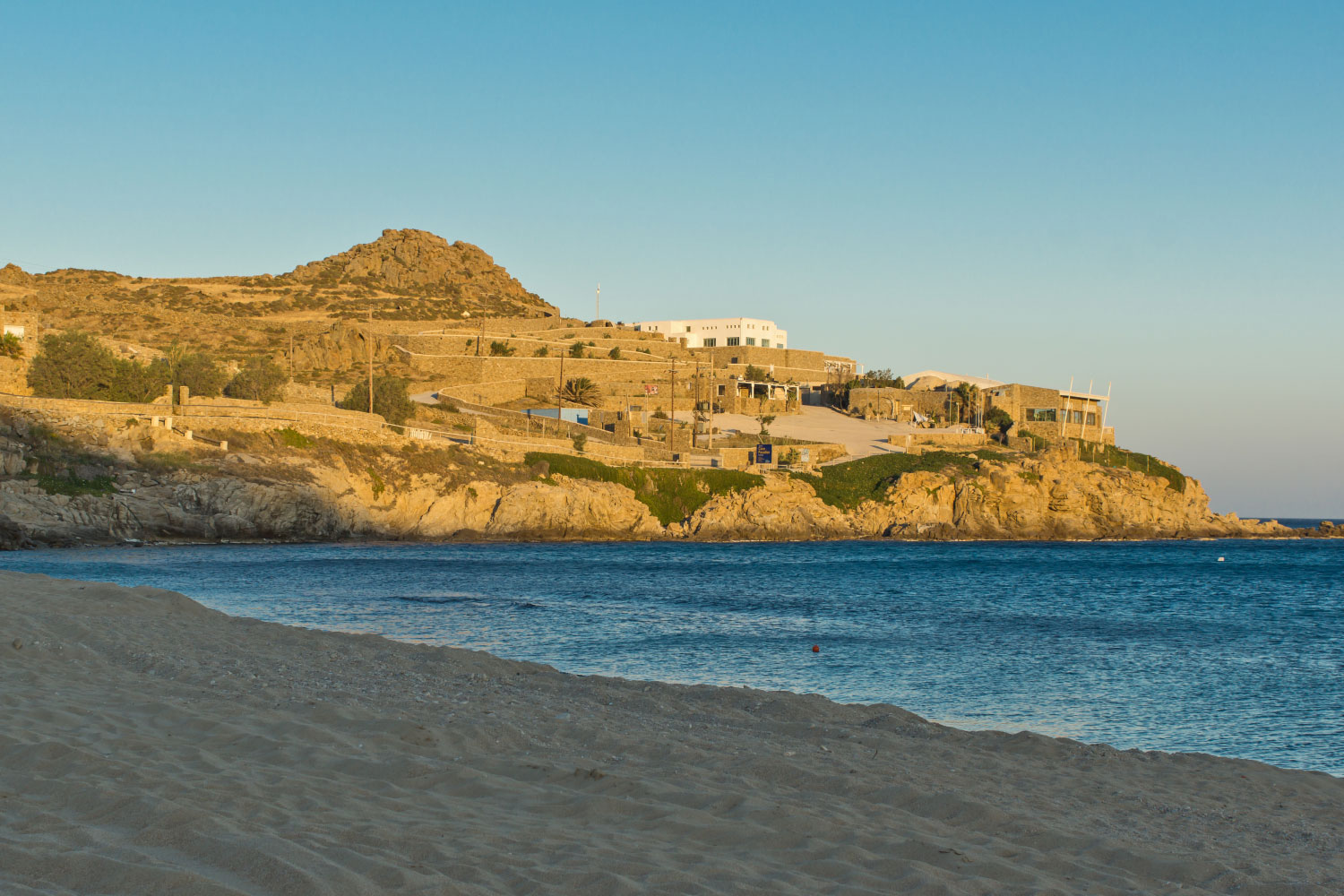 Paradise Beach
A young lively party-beach with many bars spilling out onto the sand. After the sun goes down the party gets wilder. Buses go directly from Mykonos Town to Paradise Beach, and the beach is located along the water-taxi route. Paradise Beach was once the most popular gay beach but is now largely straight. Located 6 km south of Mykonos Town.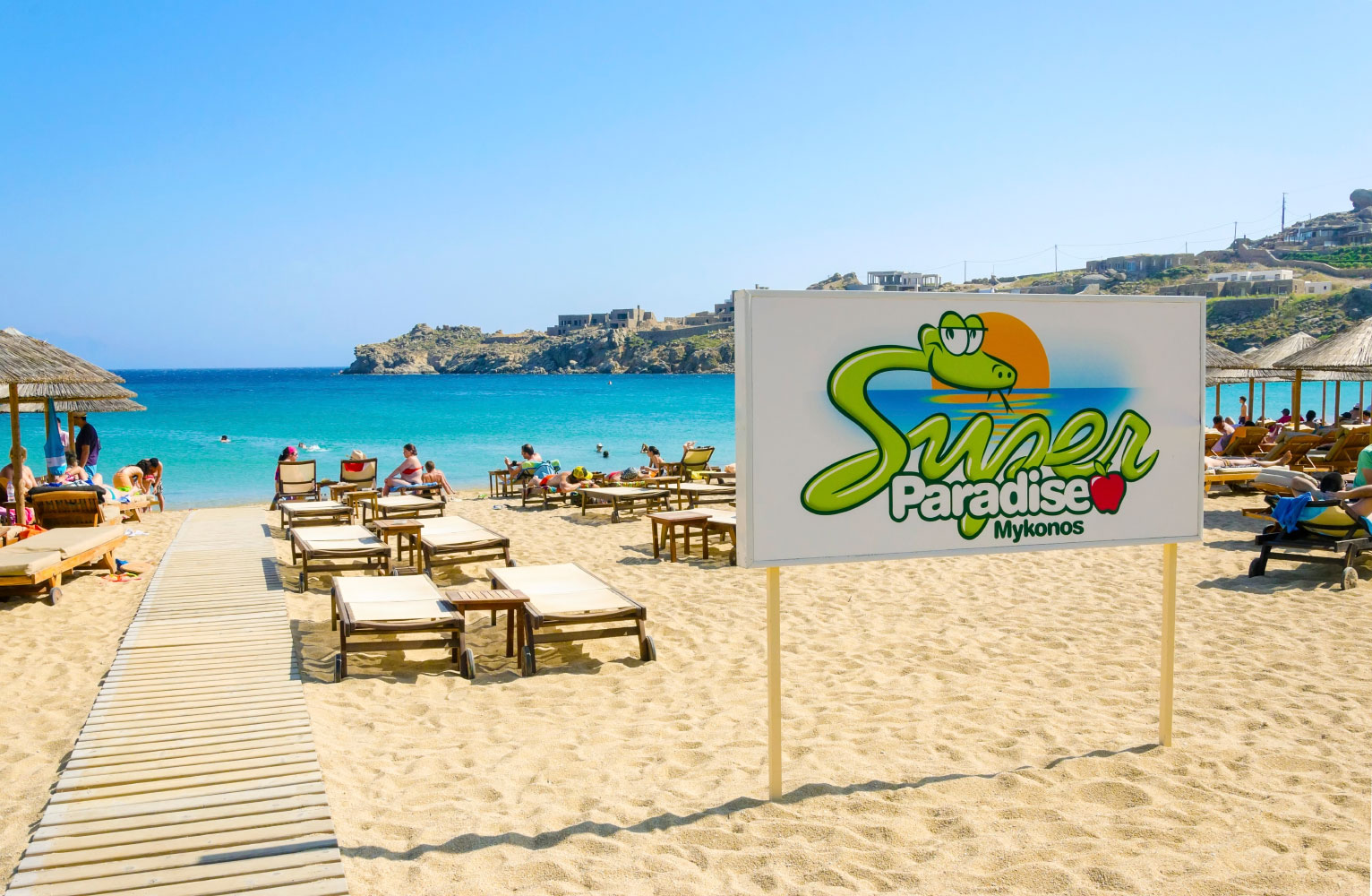 Super Paradise Beach
A small beach with plenty of activity and 2 or 3 beach bars. Probably the most gay-friendly beach on Mykonos. A local bus runs between the Mykonos Town Fabrika terminal and Super Paradise every couple of hours. There are small boats from Platis Gialos and Paradise Beach to Super Paradise Beach, and Super Paradise is located along the water-taxi route. Located 7 km southeast of Mykonos Town.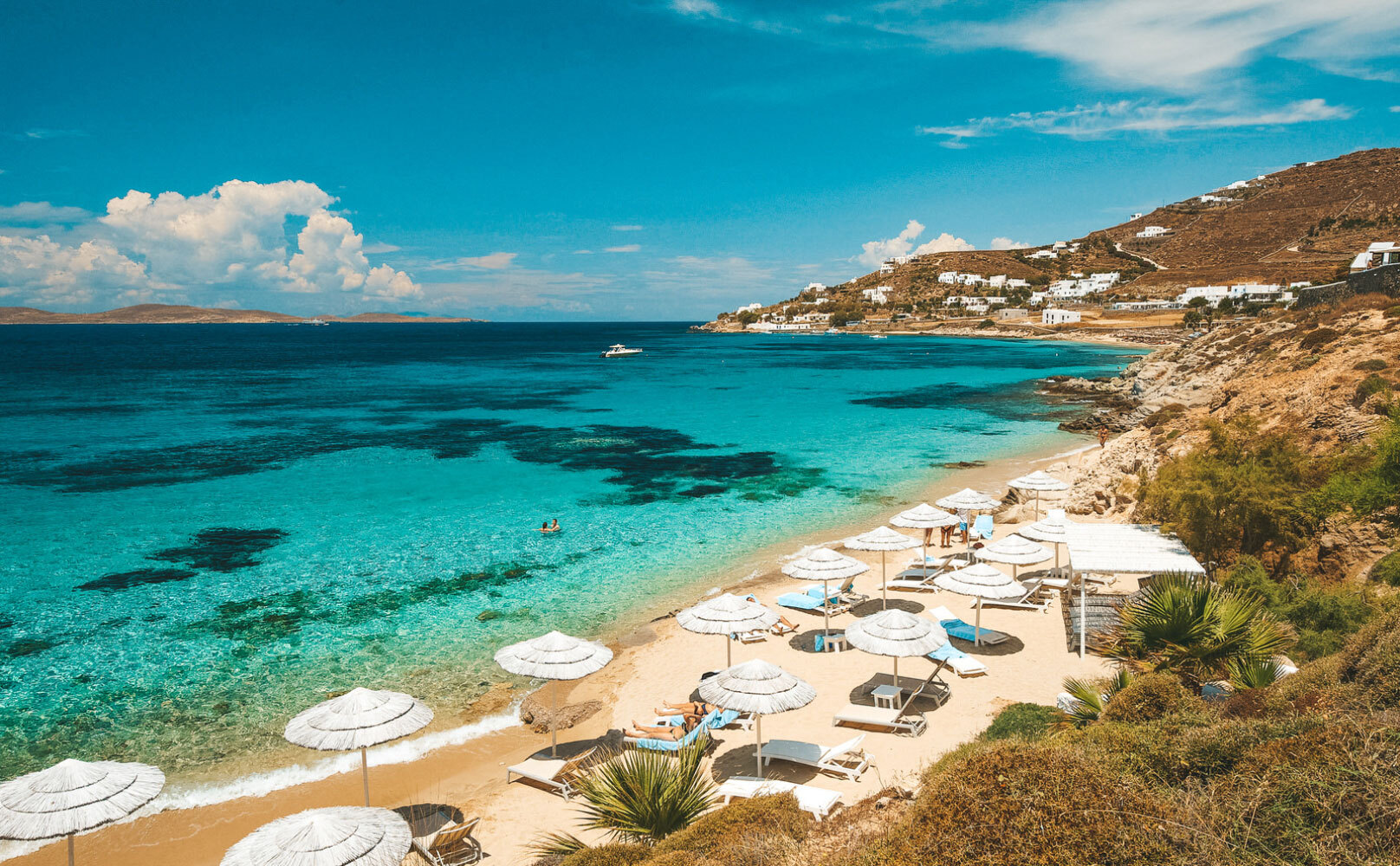 Agios Ioannis Beach
A beautiful quiet (but narrow) beach. Two tavernas/beach clubs and direct buses in high season to Mykonos Town. Located 5 km south of Mykonos Town.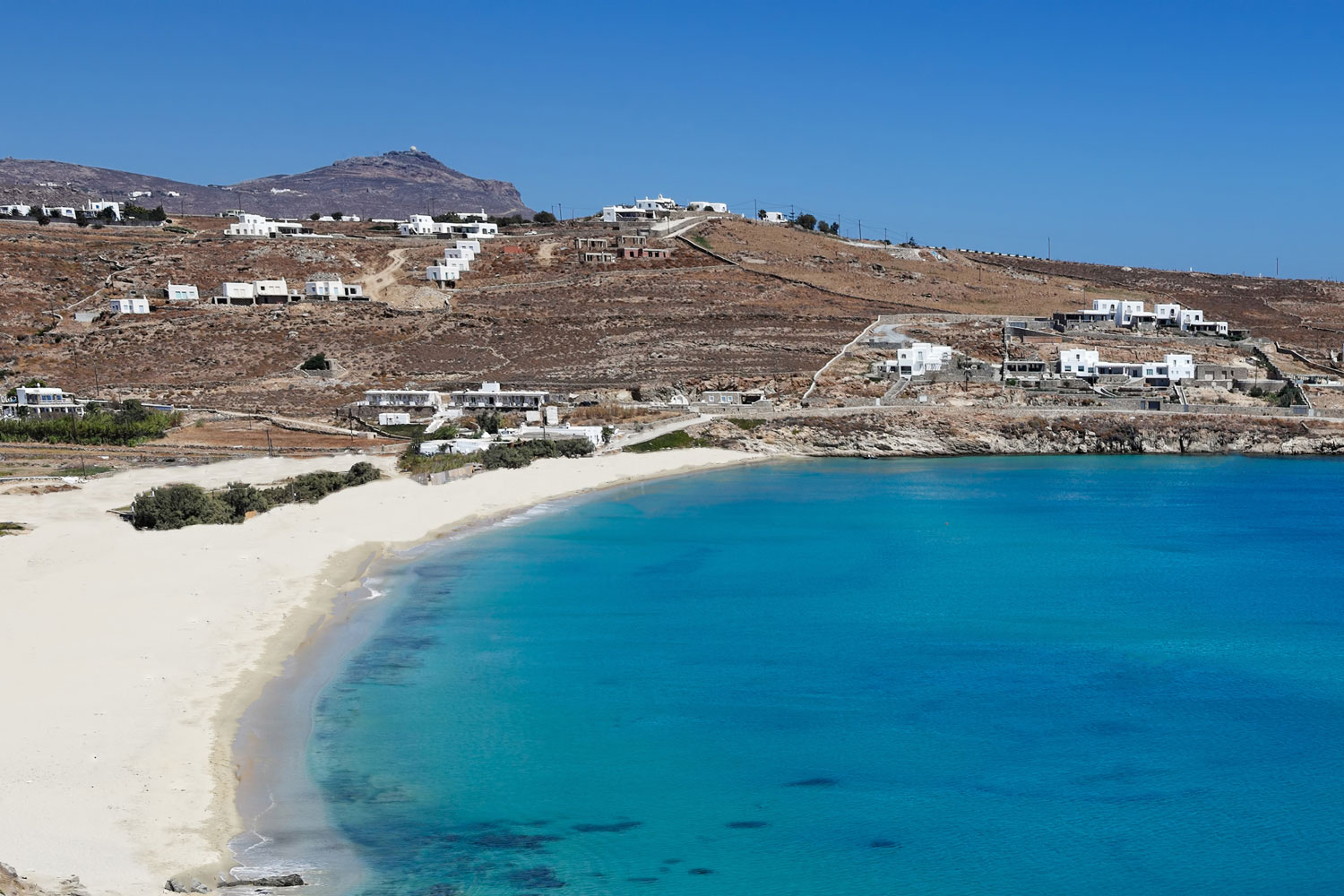 Kalo Livadi Beach
In the southeast of Mykonos Kalo Livadi is a supreme sandy beach fronting a picturesque valley with clusters of white houses. A few hundred metres from the coast, the beach has a soft gradient, allowing children to play in the shallows and confident swimmers to venture a long way out without worrying about currents.
Bright white Cycladic architecture meets history
The cosmopolitan island of Mykonos attracts thousands of visitors every year, thanks in part to its vivid nightlife, fabulous beaches and breathtaking landscapes. From Little Venice to the Windmills, have a look at some of the best attractions in Mykonos, Greece.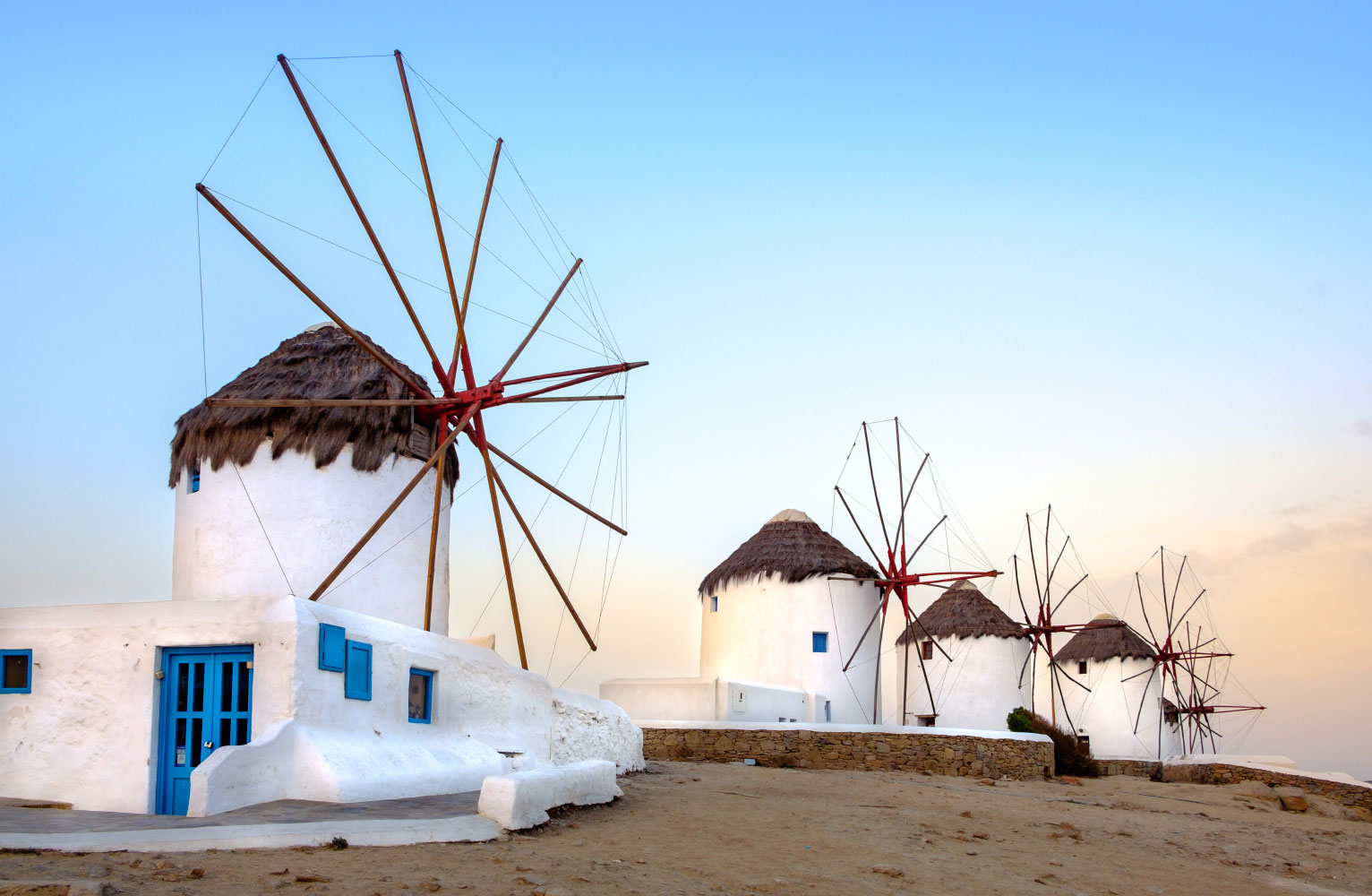 Mykonos Windmills
The first sight that hoves into view before you pull into the harbour is this row of seven white windmills posted on a small cape. The mills have become a symbol for the whole island and are a simple walk southwest of the Alefkandra quarter.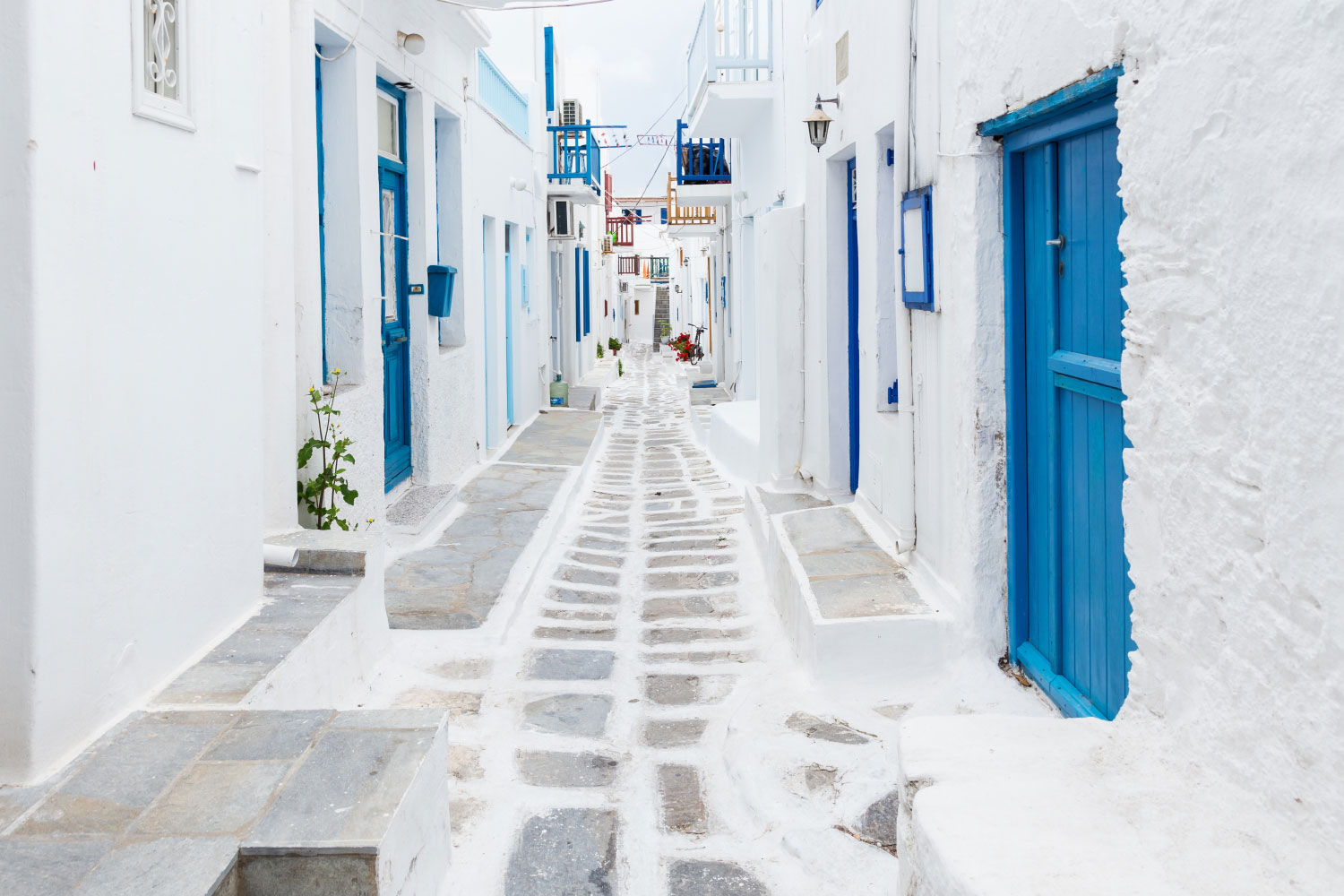 Matogianni Street
A north to south street through Mykonos Town, with little alleys darting off it, Matogianni Street is where it all happens. By day you can idle along, perusing souvenir shops, boutiques, jewellery stores and a couple of international chains. There's a delectable choice of restaurants at romantic spots with bougainvillea climbing the walls, and bars that do a roaring trade to the early hours.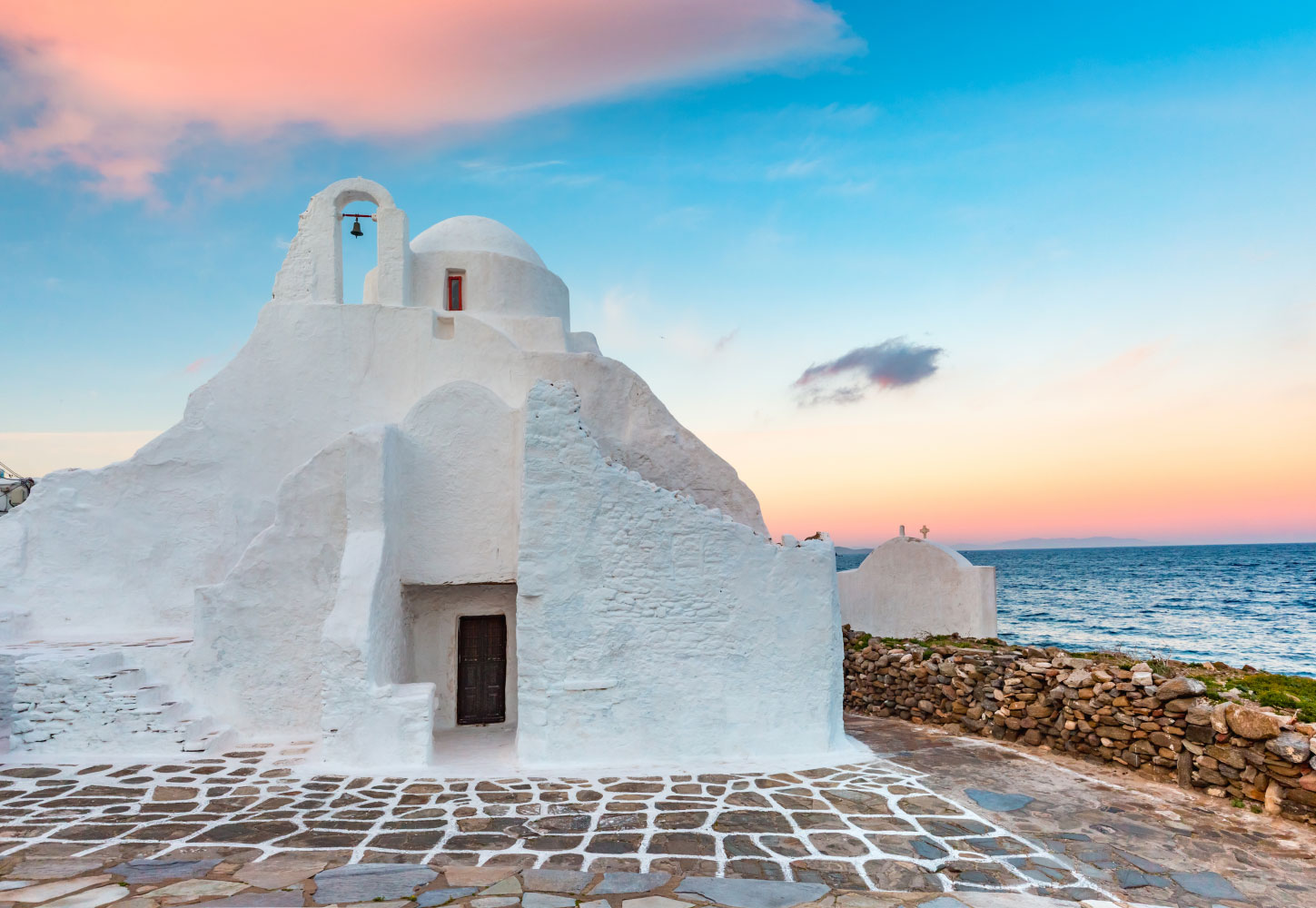 Church of Panagia Paraportiani
Just north of Little Venice, in the Kastro neighbourhood is the fascinating Church of Panagia Paraportiani. This monument was built between the 15th and 17th century and comprises four separate, interconnected churches beneath a fifth built on top. That highest church is dedicated to the Virgin Mary (Panagia) and is easy to pick out for its dome.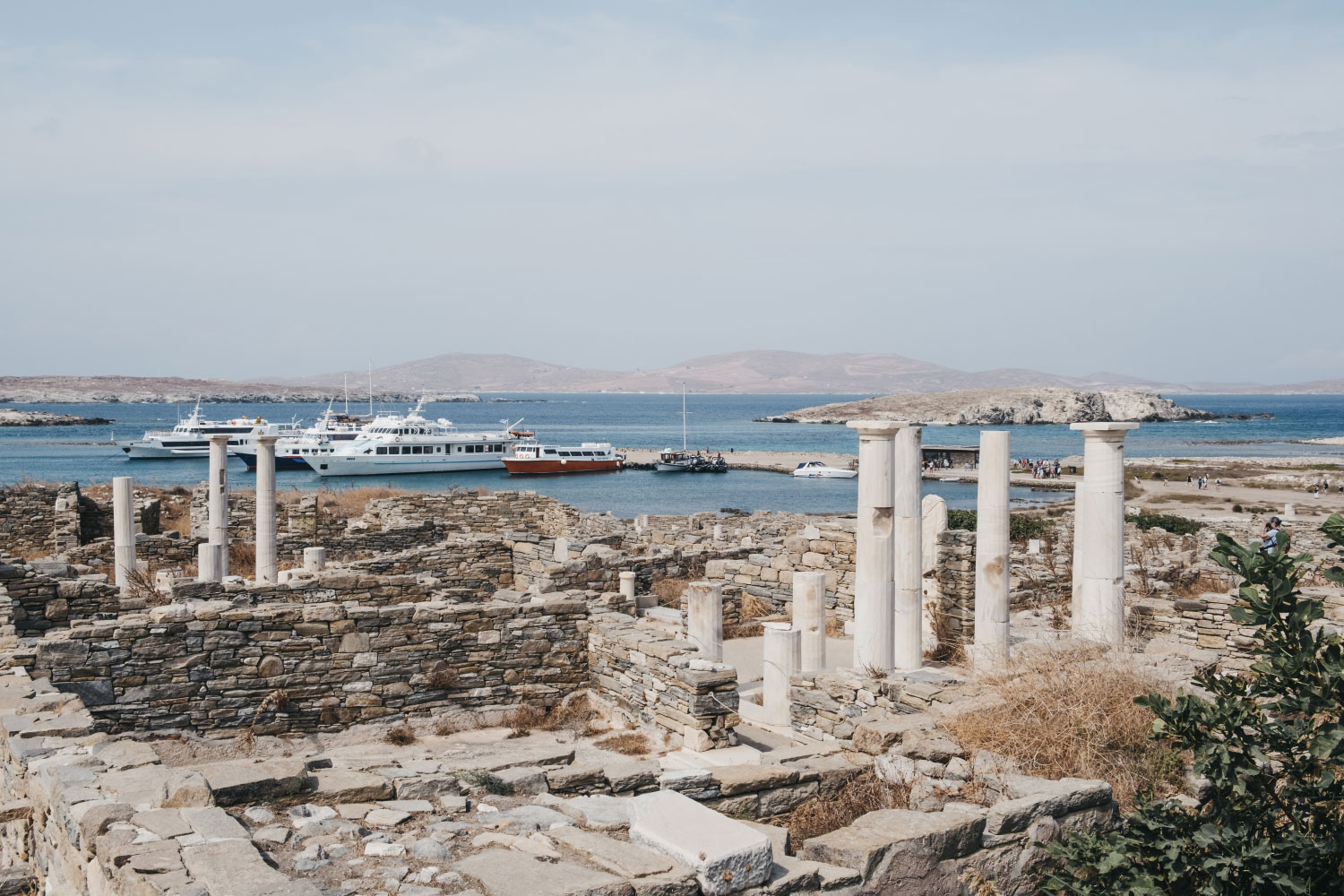 Delos
At the old harbour you can set sail for one of Greece's most treasured archaeological sites. The island of Delos is just a couple of kilometres from the southwest coast of Mykonos and its excavations have been declared a UNESCO World Heritage Site.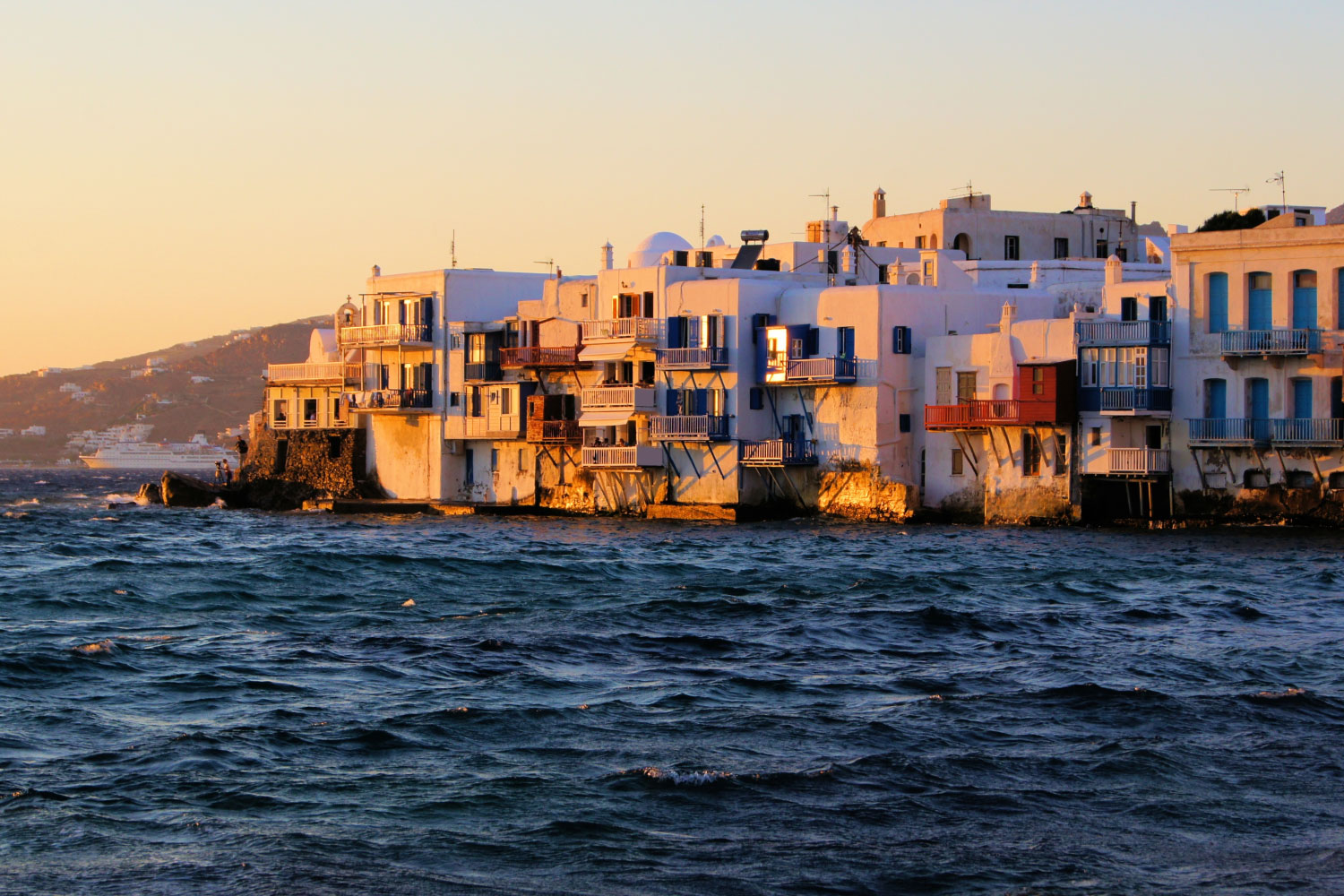 Alefkandra (Little Venice)
Around the western lip of the Old Harbour is a gorgeous web of little car-free alleys. These are laid with the typical dark marble paving stones with cement coated with the same brilliant white paint as the houses. It's the waterside that gives Little Venice its nickname, where restaurants open on to a narrow path less than a metre above the sea and tables for couples line the way.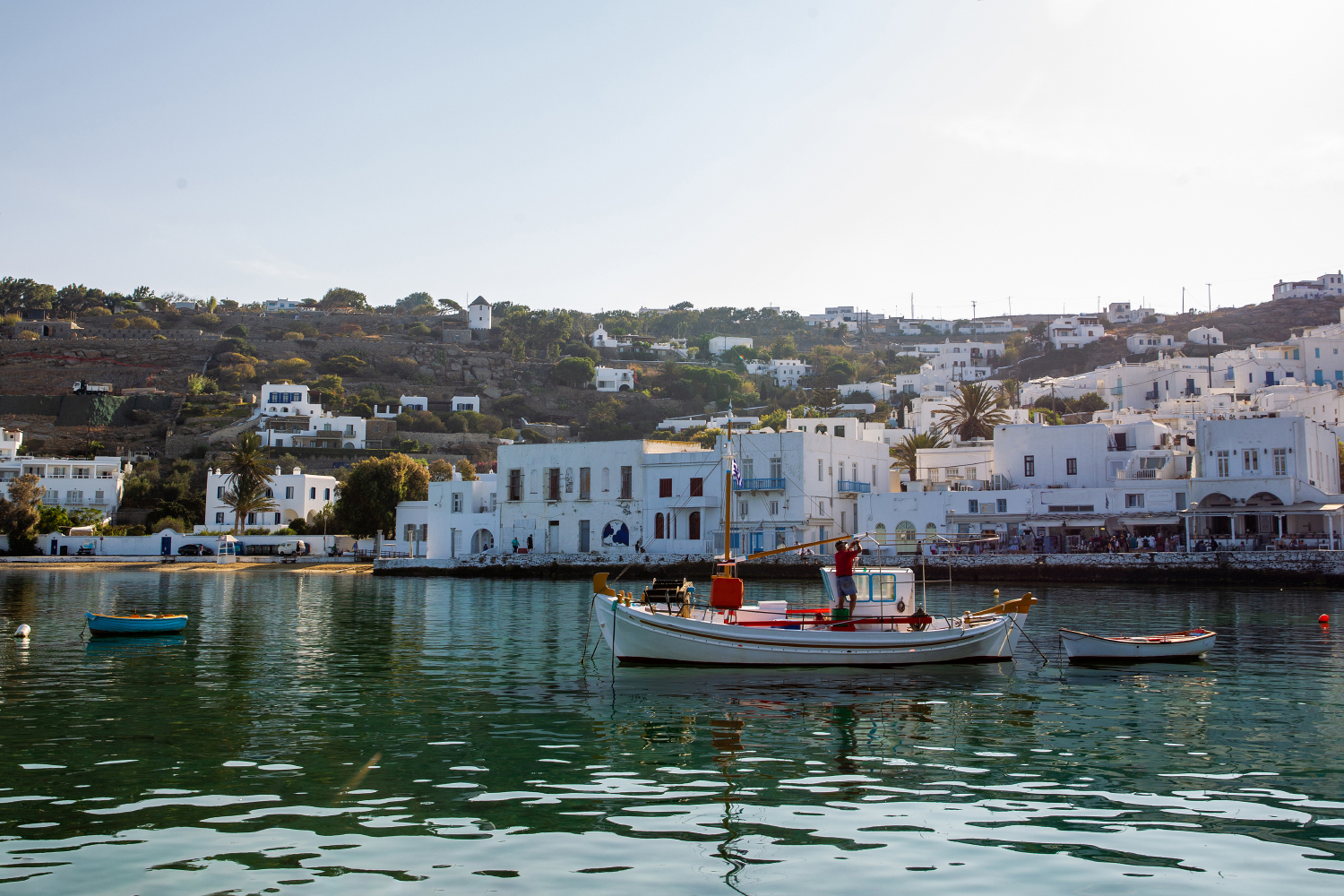 Old Harbour
After catching the SeaBus from the new port at Tourlos you'll disembark at the marble quays of the Old Harbour. On the east side are the arcades of the Town Hall dating to the 1700s, in front of which is the tiny church of Agios Nikolaos, crowned with a blue dome.